| | At Top Notch Marine we all have a story to tell and our Boating Blog is where we do just that… |
| --- | --- |
Here you will find tip & tricks, stories and other useful information about boating and getting more out of your boat. We hope you find the information in our Boating Blog helpful.
---

Four Reasons to Bring Your Boat on Vacation
There's cruising the coast by car and then there's cruising the coast by boat. Water lovers will tell you there's no comparison between the two. When you really want to dive deep into a destination, a boat-friendly vacation is the way to go. If you still aren't convinced, we've compiled four reasons to back your boat into the water and motor along for a memorable vacation from the perspective of the open waters.
Related: Float-In to These Miami Boat-Friendly Restaurants
Related: Top 10 boat friendly restaurants in Palm Beach area.
FIRST TIME FOR EVERYTHING – It's the best way to see parts of an area you wouldn't normally get to explore, including back bays and even river systems. Have you ever fished a delta or gone water skiing on a bay? There's a first time for everything, and a boat-friendly vacation can make that happen.
OPENS UP YOUR SCHEDULE – Bringing your boat along gives you freedom to explore on your own time. You aren't saddled into a 10 a.m. dolphin cruise with 40 other people when you'd rather have a late breakfast and cruise around the waterways a little later searching for the resident dolphin pod.
FLEXIBILITY & FREEDOM – You can fish a little or a lot. Stop in the local bait and tackle shops or even marinas to get the skinny on good fishing spots and boat launches. Charter fishing trips are great, but if you don't have six or eight hours to spend, manning your own inshore fishing expedition may fit your schedule better.
UNIQUE MEMORIES – We should probably list this as number one. Family vacations are filled with memory making opportunities, especially when you have your boat in tow for a boat-friendly vacation. From sunset cruising to finding the perfect swimming hole for jumping off the bow, there will be no shortage of memories to file away.
AN AFFORDABLE OPTION – You own a beautiful boat right?.. why not use it? Rent a home with a dock for a week and enjoy your boat everyday while you're on vacation! There are thousands of homes available for weekly rental in Florida and they have docks waiting for your boat! Save time and expense by bringing your boat along.
Now that you're convinced it's time to bring your watercraft along on your next vacation, check out some great boats here.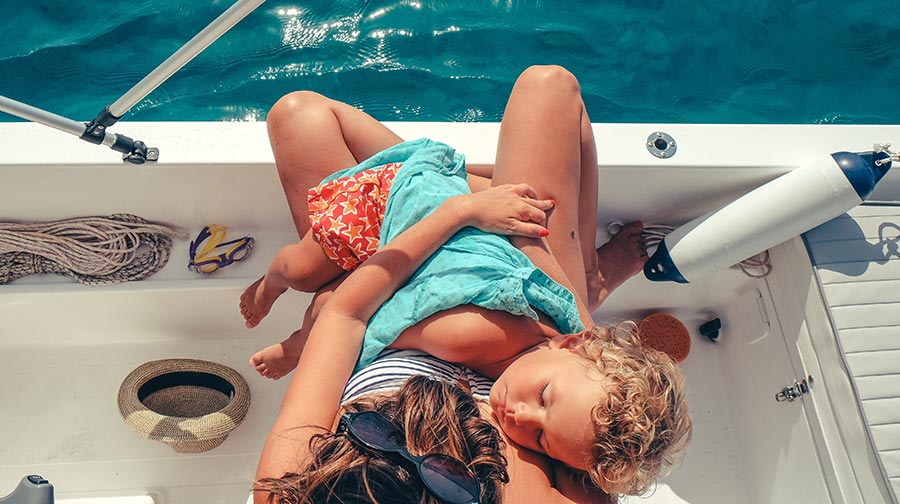 ---
Proper Boat Trailer Maintenance
Maintaining a trailer is simple, but if you don't take care of the little things, you could be in for a big letdown in the future.
Your trailer should give you many years of service if you perform periodic maintenance to keep it working properly. Our service department can help keep your trailer in peak operating condition.
A freshwater rinse after every dunking will keep critical trailer components like brakes and springs from rusting away prematurely. A quarterly spray with corrosion inhibitor on your springs, brakes, wheel lugs and other steel parts will prevent corrosion. When your trailer is new be sure to spray a corrosion inhibitor on all wheel lugs, suspension components and fasteners before your first use.
Boat trailers live in two notoriously hostile environments: on the roadways and in the water. That means regular maintenance — especially of bearings, brakes, lights and wiring — is crucial to keep them safe and legal. Tires are a critical component, too, and should be stamped with an "ST" classification, for "special trailer." Dedicated trailer tires are more durable and resist abrasion and impact better than passenger "P" tires or light-truck "LT" tires; they also bounce less. Make sure the tire is neither over inflated nor under-inflated, and that the weight on the trailer doesn't exceed its capacity. Divide the trailer's total gross weight (measure it at a public weigh station) by the number of tires. Towing your trailer with the frame level and parallel to the road is important especially with tandem or triple torsion axles. To achieve this you must have the correct ball/hitch height.
Maintaining Trailer Brakes
Disc brakes offer more stopping power. Most states require brakes to be fitted on trailers with a gross weight over 3,000 pounds. Many experts recommend them on trailers rated for 1,500 pounds and above. Trailer brakes can be mechanical, electrical, or hydraulic. Hydraulic "surge brakes" are the most popular technology. The entire system is contained in the trailer itself; any number of different vehicles can tow it. Like other hydraulic systems, this one is based on the fact that liquids cannot be compressed. A master cylinder is located inside the trailer's coupler device. When the towing vehicle brakes, inertia from the decelerating trailer drives a piston inside the master cylinder, increasing the pressure of the hydraulic fluid all through the brake lines. Be sure you have a 5 wire trailer connector on your vehicle. The 5th blue wire controls the trailer brake lock out solenoid which allows you to back the trailer up a grade.
There's a lot going on in your trailer's coupler device including a master cylinder for your brakes. At the other end of the brake lines, this pressurized fluid drives the braking device — either calipers in the case of disc brakes or a brake cylinder in the case of drum brakes. Disc brakes consist of a rotor oriented in the axis of the wheel. During braking, a piston drives calipers that squeeze against the rotor, creating friction to stop the wheel. By contrast, drum brakes consist of a wide cylinder section. During braking, a curved shoe inside the drum presses against the drum, slowing the wheel.
Drum brakes work better in wet conditions and are self-adjusting. Disc brakes tend to have greater stopping power and greater fade resistance than drum brakes, and function better in wet conditions. They're also self-adjusting and easier to inspect and maintain. That said, their rotors are typically made of steel, which is prone to corrosion. Rinse metal parts thoroughly with fresh water after every launching.
Brake pads are a routine-wear item. Follow manufacturer's instructions for indications of when it's time for replacement. Brake lines are another regular-service item. Fluid levels should match the manufacturer's recommendation. If they call for, say, new "DOT 3 brake fluid," don't substitute anything else; seals and other components depend on the right blend. If brake lines need to be either replaced or bled, carefully follow manufacturer's instructions.
Other Items
Winch straps or cable must be inspected and replaced if showing signs of fraying, chaffing or fading. If you feel you might snap a cable or strap when cranking the boat on the trailer you might have the trailer adjusted improperly or the trailer is not far enough in the water. See your dealer for assistance with this.
Coat all steel or iron parts with a good quality corrosion inhibitor. Lug nuts, brake parts (not where pads contact rotor or drum). Lubricate tongue jack, winch and coupler mechanisms with a spray lube like WD-40.
Always check your lights for proper operation before each trip. A good tip is to buy a test plug that inserts in your vehicle's trailer plug connector. This tests the vehicle and allows you to easily isolate a problem. They are about $6.00 and well worth it.
Safety Tips
Be sure to secure your boat from moving forward and back on the trailer. You can use dock lines or ratchet straps to do this quickly and easily. CHECK LUG TIGHTNESS BEFORE EACH TRIP. Verify coupler is secure on the ball and there is a safety pin installed to keep the coupler from opening on its own. Cross safety chains and make sure they are securely on the vehicle hitch point. Always check tires for correct pressure, overheating or uneven wear at any gas stop.
---

10 Ways Boat Trips Are Good For the Soul
Boat trips are just plain good for the soul. The sense of peace and tranquility that can be restored to you while gently rocking on the waves is undeniable. Although, if you need more reasons to take a boat trip, or are trying to convince someone else why a boat trip is well worth the time, look no further.
Boat trips create bonding experiences with family and friends. The lasting memories you can make while on a boat trip are priceless. Think about watching a sunset on the water with your best friends, fishing for bluegill with your kids, or admiring the wildlife.
A day in the sun allows our bodies to soak up a safe amount of Vitamin D. With the use of sunscreen, Vitamin D is an important vitamin that one needs in order to survive.
There is proof that being near water can naturally help lower anxiety, leading to a healthier and more relaxed lifestyle.
Learning new boating skills can be an empowering and educational experience. When you go on a boat trip, you will always have the opportunity to learn something new.
Boat trips allow you to unplug. In this digital age, we are always either sending a text message or checking our email inbox. Stress, insomnia, and depression have been connected to our inability to power down. When you head out for a boat ride, it's the perfect excuse to unplug, even if it's just for a few hours.
You are following your passion. Having a passion or hobby, such as boating (or fishing!), can contribute to your overall happiness.
Boating establishes a feeling of community on the water. Fellow boaters are known for being there to help one another and for offering words of advice.
When you go on a boat ride, you have the opportunity to broaden your range of experiences by trying different types of water sports like fishing or water skiing.
Boat trips keep you balanced. How many times have you become so consumed with work or school commitments that you neglected to set aside a day for some fun family boating? Going on a boat ride will help you keep your life in balance between work and play.
A boat trip is an adventure. We only have a limited number of days on this amazing and wonderful place we call earth, so don't waste any of them wondering what it would be like to boat on a different waterway or in a different state. Embrace the adventure!
Content provided by Take Me Fishing.
---
Boat Trailer Wiring Basics
When it comes to boat trailer wiring it's a good idea to check to make sure all your lights are working before you hit the road. Usually your troubles are light fixture or bulb related failures mainly due to corrosion or backing hot bulbs into cold water. Use the handy reference charts I provided to make sure your wiring is correct. Always make water proof connections and I recommend soldering and heat shrinking the connection for reliability. If you have hydraulic surge brakes and are having trouble backing up read my tip on brake solenoids here.
If you encounter multiple problem areas with your boat trailer wiring it is far easier and less costly to replace the harness as a whole. They are available in a local boat accessory store for about $25.00. Take your time and make good repairs, look for pinched or corroded wires and your lights will be much less likely to leave you in the dark. If your wiring along with your axles, springs and maybe tires need serious attention maybe check out a new trailer at Boat Trailer Outlet.
---
---
Please direct any comments to info@topnotchmarine.com.